New Delhi: Chief Minister Arvind Kejriwal has written to former Prime Minister Manmohan Singh expressing his gratitude 'on behalf of the 2 crore people of Delhi' for voting against the Delhi Services Bill. In a letter dated August 8, 2023, the Aam Aadmi Party (AAP) supremo thanked Singh for his 'sheer presence' in Rajya Sabha, when the Government of National Capital Territory of Delhi (Amendment) Bill, 2023 was passed on Monday. 

"I write to you expressing gratitude on behalf of the 2 crore people of Delhi for your party's support in rejecting and voting against the GNCTD (Amendment) Bill, 2023," Arvind Kejriwal said in his letter.
"I would like to place on record the heartfelt appreciation that the people of Delhi have for you for championing the rights on the floor of the Rajya Sabha, despite your deteriorating health. Your presence by our side, despite the constraints imposed by your age and ailing health, conveyed a story of calm, grace and conviction to preserve India's democracy and federal structure against all odds," he added. 
ALSO READ | 'Extremely Shameful': BJP After Congress Brings Ailing Manmohan Singh To Rajya Sabha

Kejriwal said that Singh's 'unflinching commitment towards the principles of our Constitution will be remembered for decades' and 'deeply inspire the coming generation of parliamentarians'.
"Your sheer presence in the Rajya Sabha also sent a loud and clear message to all those forces working to weaken Indian democracy that any such attempts will be met with fierce resistance by political leaders cutting across age and party lines," he wrote further.

He also said that as we center a new phase in the struggle for securing the rights of Delhi's citizens, we look forward to your continued support and guidance in the fight against forces that are undermining the Constitution.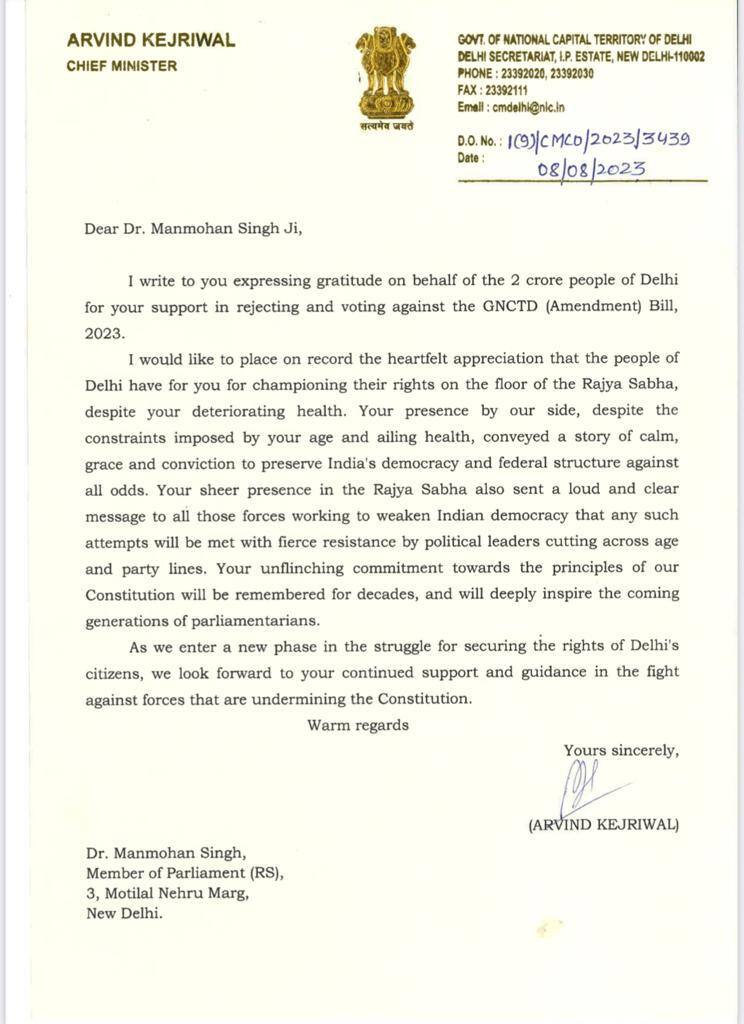 Kejriwal also wrote similar letters to Congress president Mallikarjun Kharge and party leader Rahul Gandhi and thanked them for their support in rejecting and voting against the GNCTD (Amendment) Bill, 2023. 
He also reportedly wrote to other Opposition leaders part of the INDIA bloc and thanked them.

Earlier on Monday, Parliament passed the Delhi Services Bill,which gives the central government control over bureaucrats in the Delhi government, with the Rajya Sabha approving it with 131 votes in favour and 102 against.